UltraGauge EM / MX Gauges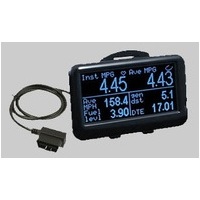 GAUGES:
The UltraGauge EM Plus & UltraGauge MX can display 78+ possible standardized gauges. Gauge selection is completely customizable. The actual gauges available are vehicle dependent. If your vehicle supports any of the gauges listed, then the gauge will be available for display by UltraGauge.
The UltraGauge EM Plusdoes not support Manufacturer specific gauges such as Transmission temperature, the UltraGauge MX 1.3 does.
MILEAGE:
UltraGauge continually calculates real-time Miles/kilometres Per Gallon/Litre as you drive. UltraGauge displays real-time and average MPG/KPL to help adjust driving habits for maximum savings.
With Real-time MPG/KPL, UltraGauge can quickly answer those age-old fuel efficiency questions specifically for your vehicle:
Is it better to drive with the windows down or use the air-conditioner?
Tailgate up or Down?
Do truck tailgate & bed accessories help MPG/KPL?
Is MPG significantly affected by tyre inflation?
Which gear is best when climbing grades?
Which speed delivers optimal MPG/KPL?
Does engine braking use more fuel?
Does MPG/KPL change based on altitude?
Although dangerous, does drafting really help?
and many more....
With UltraGauge it's instant and easy!
ALARMS
UltraGauge features fully configurable alarms for every gauge. Both low and high alarms may be set and the trigger value of each alarm is completely configurable.
UltraGauge continually compares real-time gauge values against configured alarm values. If the alarm thresholds have been exceeded, an audio and visual alarm will occur. The alarm window will display the set value and the current value. While the alarm is occurring, the particular alarm may be easily suspended and will no longer trigger for the remainder of the current driving cycle.
The alarm siren may also be disabled to provide only visual alarms. Alarms may also be globally disabled so that both visual and audible alarms are disabled.
An alarm may also be assigned to trouble codes or pending codes. Should a trouble code or pending code become posted while driving, an alarm immediately occurs. This can aid in the diagnosis of intermittent problems.
TROUBLE CODES / ENGINE WARNING LIGHTS:
UltraGauge not only displays all current Engine trouble codes but also codes for potential or intermittent faults. With UltraGauge, checking engine codes is easy. UltraGauge also proactively scans for trouble while you are driving and alerts if trouble is found.
UltraGauge uses the same fundamental technology that automotive mechanics use and can display all current Engine trouble codes. Eliminate the hassle, time and expense of taking your vehicle to an automotive repair center. Avoid faults that can lead to expensive and untimely break downs.
Check Engine Light on? No problem! UltraGauge can also turn off that annoying check engine light!
COMPATABILITY:
Please confirm that your vehicle is OBDII certified. UltraGauge is only compatible with vehicles which are OBDII certified. While OBDII compliance was mandated in the USA in 1996, this is not true internationally. Most countries eventually did adopt the OBDII standard. However, vehicles sold prior to OBDII adoption may or may not be OBDII compliant. For example, Australia did not adopt the OBDII until 2006. However, many pre-2006 vehicles are compliant, many are not. If you are uncertain, please contact your vehicle's manufacturer.
Diesel Vehicles: Ultragauge may not be able to accurately estimate fuel usage.
GAUGE PAGES:
UltraGauge features multiple pages of gauges. Pages allow gauges to be conveniently organized and accessed. One page might be configured to display gauges focused on mileage, while another page might focus on engine vitals or trip gauges. A single key press advances the display to the next page.
Pages can be configured to advance automatically to the next page after a configurable time interval.
Once the last page is reached, UltraGauge advances to the first page.
| Feature | UltraGauge |
| --- | --- |
| Number of pages | 7 |
| Gauges per page | 4,6, or 8 |
| Pages can be individually enabled or disabled | Yes |
| Configurable page refresh rate | Yes |
| Health Indicator | Yes |
| Open/Closed loop indicator | Yes |
| Auto page advance | Yes |
| Auto page advance rate configurable | Per Page |
| Same Gauge(s) assigned to multiple pages | Yes |
UltraGauge allows each of the seven pages to be independently configured to display 4, 6 or 8 gauges per page. UltraGauge allows a given gauge to be assigned to any page.
Each page configured as 4 or 6 gauges per page also displays the open/closed loop indicator and the UltraGauge health indicator. The open/closed loop indicator provides a convenient indication of the state of the vehicle's fuel mixture system.
UltraGauge allows for up to 56 gauges to be easily and quickly accessed via its seven pages.
DISPLAY:
UltraGauge features an LCD display with LED backlighting. Unlike traditional LCDs which rely on the reflection of ambient light, the UltraGauge display actually emits light. Only the information displayed emits light, the background remains dark. This makes for high contrast and exceptional day and night visability.
UltraGauge automatically adjusts display brightness based upon ambient light levels. This is especially important for night driving safety. UltraGauge minimizes the light levels for night driving so that night vision sensitivity is not disturbed. Brightness levels are fully configurable.
The large display makes for large and easily readable text. The display uses high quality glass that is easily cleaned.
Despite the large display, the body of UltraGauge has been minimized to simplify installation and limit dash obstruction.
UltraGauge automatically detects when the vehicle is not running and switches the display off.
GENERAL FEATURES:
Supports most 1996 and newer OBDII compliant vehicles
Supports more than 78 selectable Gauges
Real time and long term mileage/kilometre gauges
Distance-To-Empty and Time-to-Empty gauges
Auto-Page advance, cycles through gauge pages
Configurable low and high alarms for every gauge
Audible and Visual Alarms
Alarms may be individually suspended.
Displays both current and pending trouble codes
Clear Check Engine Light and Trouble Codes
Current and pending Trouble Code Alarms
Automatic fuel fill-up detection
Oil change and Service Gauges
Trip Gauges
Speed calibration for tyre, wheel, transmission, and/or differential changes
Health indicator
Internal temperature sensor that can be monitored and alarmed
Fuel mixture closed and open loop indicator.
Large LCD Display
Display Brightness adjusts automatically to ambient light; automatic night driving
Lightweight easy to route OBD II cable
Compact and minimally intrusive.
Low power usage
Retains configuration and accumulated data across power cycles
Automatically detects and turns off display when vehicle ignition off.
Comprehensive menu system
Comprehensive detailed user manual
FAQs:
How can UltraGauge be offered so inexpensively?
UltraGauge was designed from conception to be as inexpensive as possible without sacrificing functionality and features. UltraGauge contains very large scale integrated circuits that increase reliability and reduce cost.



What's involved in installing UltraGauge?
Simply plug UltraGauge into the vehicle's OBDII connector. The OBDII connector is typically located below the dash above the driver's foot controls.
The OBD II connector is present on all 1996 and newer vehicles. UltraGauge is truly plug and play. There is absolutely no additional wiring.



Is UltraGauge Compatible with my vehicle?
In general, if your vehicle was sold on or after 1996, then your vehicle is likely compatible.
Which gauges will be available for my vehicle?
UltraGauge supports 78 unique gauges. However, UltraGauge can only display the gauges that your vehicle actually supports via the standardised OBDII interface. Gauge availability can vary by year, make, model and engine size. There is no definitive means to know which gauges will be available for your vehicle short of attaching UltraGauge and letting UltraGauge discovery the available gauges.
How does it work?
All modern vehicle computers inherently monitor most engine functions to properly set the fuel mixture and meet emission standards. UltraGauge communicates directly with your vehicle's computer via the standardised OBDII port and collects and displays engine data. UltraGauge also forms new gauges by combining engine data and accumulating data over time.

How is UltraGauge mounted?
Despite its large display, the body of UltraGauge is very compact and easy to mount. We currently offer a clip on bracket to mount your gauge, other mounting options will be available soon.

How quickly does UltraGauge update gauges
The rate at which UltraGauge updates all gauges displayed is configurable from 0.3 to 2.0 seconds, with a default of 1 second.. So in one minute, it has updated each gauge 60 times. Even though UltraGauge updates relatively quickly, it may not be suited for applications that need a fast continuous real-time display, such as racing applications.

Does it need Batteries?
No. UltraGauge draws power through the OBDII connector directly from the vehicle battery.

Will UltraGauge work with Hybrids?
Yes. However, the number of available gauges is vehicle dependent.

Will UltraGauge alter my vehicle's computer?
Never. Normally UltraGauge simply requests information from the vehicle's onboard computer via the OBDII port. The only instance in which UltraGauge could be thought of as altering the computer is when the Check Engine light is set to off. However, this is a request made by UltraGauge to the computer, the computer retains absolute control and either grants or denies the request from UltraGauge.

Does it work with Diesels?
Yes, as long as your vehicle is ODBII compliant then it will work. It is imperative that the fuel calibration procedure be performed for all diesel vehicles.

Where is UltraGauge Made?
UltraGauge was designed and developed in the USA. UltraGauge is a US company that exclusively manufactures. UltraGauge is assembled in China.

Does it work on Motorcycles?
Yes, some of the newer fuel injection motorcycles have an OBDII certified interface.
Please note that UltraGauge is not weather proof and should not be exposed to rain.