UltraGauge M Gauge Codes


Welcome to the UltraGauge Product Support Page for our retail customers. Here you will find a range of coding options that we have available for the varying vehicles. We pre-program common transmission and torque converter temperature gauges prior to delivery, yet customers may want other gauges. Listed below are the current known tested and working gauges by vehicle which can be added, if you choose, when you receive your gauge via the M Gauge function. The M Gauge programming task card is available in the Blog section of our webstore.
Please note, we only pre-program transmission temperatures, other gauges may be available below for your vehicle but this will require you to program them in yourself once your gauge is delivered.
TOYOTA
Landcruiser 200 Series - Pre 2016 (non DPF)

Landcruiser 200 Series - 2016-2020 (with DPF)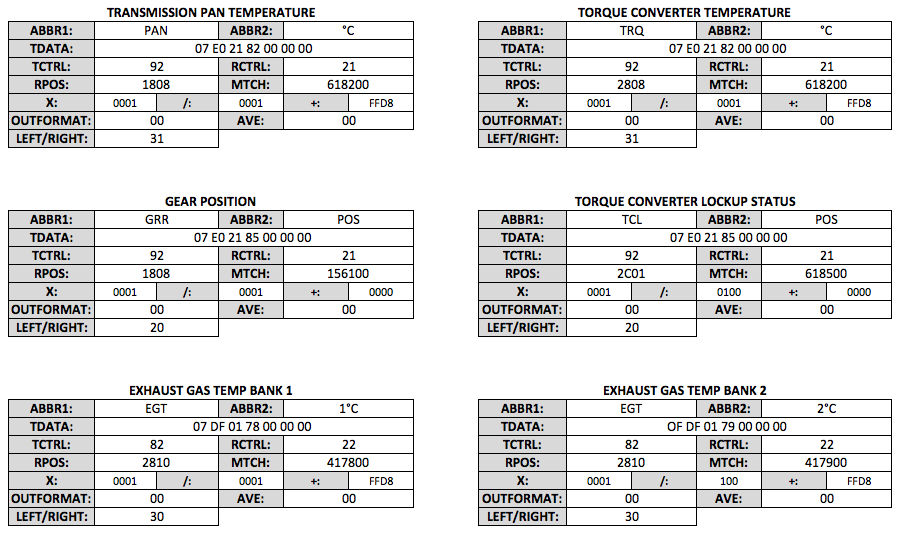 FORD / MAZDA
Ford Ranger / Mazda BT50 3.2lt, Ford Ranger / Raptor / Everest Bi-Turbo 2.0lt

HOLDEN
Holden LS2 / LS3
Holden Colorado 2.8lt 6sp

MITSUBISHI
Mitsubishi Pajero 3.2lt V80 / Mitsubishi Pajero Sport 2015+ / Mitsubishi Triton 2015+

ISUZU
Isuzu D Max / MUX

VOLKSWAGEN
Volkswagen Amarok 8sp / Toureg 6sp 2015+
Awaiting upload
NISSAN
Nissan Patrol Y62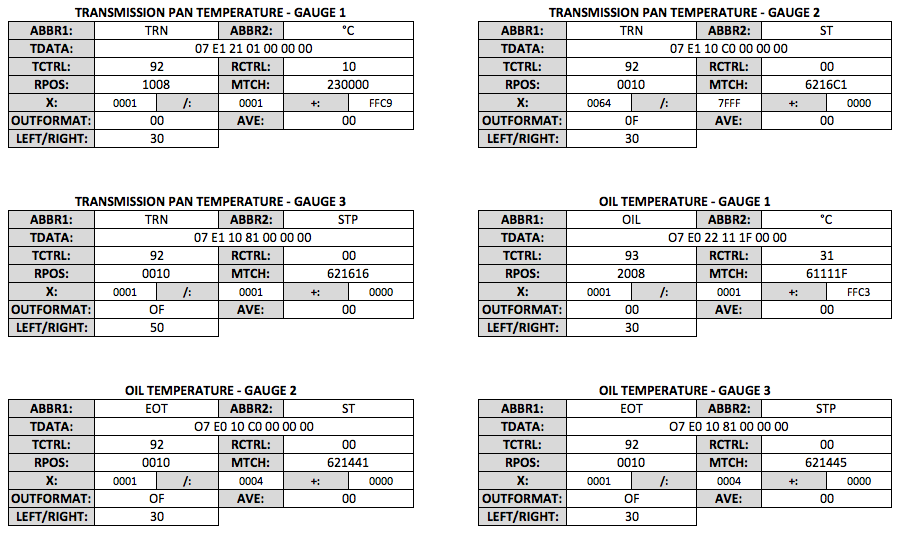 **PLEASE NOTE FOR Y62 GAUGES ALL THREE GAUGES FOR EACH GAUGE (TRANSMISSION & OIL) MUST BE ON THE SAME PAGE TOGETHER. FOR EXAMPLE PAGE 1, TO DISPLAY TRANSMISSION TEMPERAUTRE, TRANSMISSION PAN TEMPERATURE GAUGE 1, 2 & 3 MUST BE ALL ON PAGE ONE. GAUGE 1 (TRN C) WILL SHOW THE TRANSMISSION TEMPERATURE READING AND GAUGE 2 & 3 (ST / STP) START AND STOP THE TEMPERATURE PROBE. IF THEY ARE NOT ALL ON THE SAME PAGE THE TEMPERATURE WILL SHOW 'ERR'. THIS APPLIES TO THE OIL TEMP GAUGE ALSO, ALL GAUGES RELATIVE TO THE REQUIRED OUTPUT MUST BE ON THE SAME PAGE.
For further technical support or issues that are unable to be resolved by Precise Auto you can lodge a support ticket with UltraGauge in the USA on the below link: